DJ Service
Each disc jockey is professionally trained with state-of-the-art equipment. Personal, up-beat and interactive are a few words which can be used to describe them. In fact, they're more than disc jockeys, they have become entertainers, committed to ensuring your Special Event is everything you've "Dreamed It Could Be".
At Night Beat Entertainment our Entertainers will not only take your requests but they will play them. We often use mixing and fun dances to keep the dance floor packed. You can also have peace of mind knowing that our Entertainers pay close attention to volume levels. This will ensure that the volume is ideal for dancing yet still comfortable enough that guests can talk in areas away from the dance floor. And of course, without question our Entertainers are well groomed and dressed appropriately.
"Thanks for controlling the rhythm of our night! You rock! Truly a night that could not be beat. Thanks Ian"
Danny and Dana Azar

"Thank you so much for providing the music and entertainment for our wedding. From the lights to the music everything was amazing. We would also like to thank you for performing MC duties – from getting everyone out of their chairs and cheering to making them laugh, you knew exactly what to say at each moment. You did an awesome job!!"
Cliff and Jody T.
NOTE:  Our Entertainers can also be your MC – Master Of Ceremony.  At Night Beat we do it all !!
Music Library
As our slogan suggests, we will Control the Rhythm of Your Night with a vast variety of music. Our music library spans all eras from big band sounds to waltz, the golden oldies from the 50's and 60's to the disco grooves of the 70's,. We also feature billboard chart breakers of the 80's, the funky dance tunes of the 90's, to today's current hits. Whether you prefer classical, jazz, country, pop, rock, dance, reggae or R&B, we've got it all! All ethnic music can be provided.
"Hi there; My best friend is getting married next year and I HIGHLY RECOMMENDED your company for her wedding! I heard you at another wedding and thought that your selection of music and set up were extremely professional and entertaining. Please forward some information so that we can BOOK your company. Thank you!"
Email from Cassia H.

"You catered to everyone;s taste in music and kept people dancing right until the lights went on. The dance floor was never empty and that is exactly what we wanted. I can't express in words the gratitude we feel towards the effort you put in to making our night so beautiful and special. It's been about 2 weeks and people are still calling to tell me how much fun they had. And for that I can't thank you enough."
Robert and Jennifer A.
 The Price
You will find our rates are very affordable. We know that high prices do not guarantee high quality, nor are low prices necessarily a good deal. We firmly believe a good deal occurs when you, the customer, receives a very competitive and fair price, along with the best possible customer service.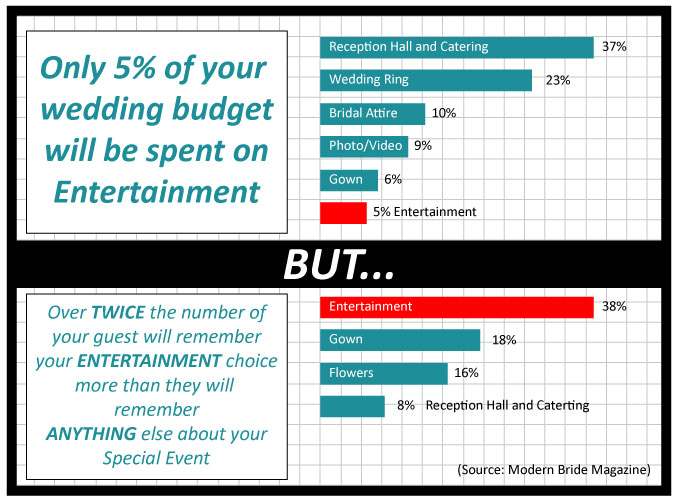 Contact us for pricing and availability.
 Wedding Planner
Upon choosing our services, we will provide you with a starter booklet filled with helpful hints, ideas, and suggestions to make your Special Event unforgettable, unique, and tailored to your needs. We will also confirm your reservations with signed contract and small retainer fee.
Our years of experience are yours to take advantage of. We will help you select specific songs and/or types of music for the arrival of your guests, your receiving line, grand entrance, dinner music, and dance music. Together we will finalize your special songs: The First Dance, Father and Daughter, Mother and Son, Bridal Dances, Special Dedications, and a Farewell Song, as well as introducing the parents of the bride and groom, the head table and distinguished guests.