"We had such a great response from our guests about the wedding reception and music. Ian and Night Beat Entertainment was honestly amazing! He kept everyone dancing and had a great variety of music to make guests of different ages enjoy themselves! Dancing on a Cloud (Dry Ice) was such a awesome feeling and surprise that Ian and my now husband orchestrated. We'd highly recommend Ian and his services to host any party! " Caro – August 2018 – Italian / Spanish / English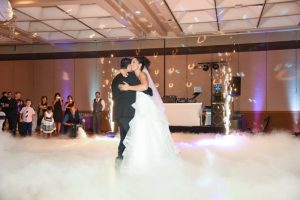 ---
"We hired Night Beat Entertainment as the DJ service for our wedding and all we can say is they were amazing! Night Beat definitely exceeded our expectations and we received great reviews from many of our guests. Ian was professional, easy to deal with, incredibly flexible and also very creative, especially in how he was able to incorporate music from both our Canadian and Persian cultures. Ian thought of details that hadn't even occurred to us, and helped make our wedding beautiful and memorable – we would highly recommend Night Beat to anyone looking for a DJ service. Ian – you ROCK!"
Cassie & Kevin – 2018
---
Best Choice Out There !!!
"I highly recommend Night Beat Entertainment! From the great first impression meeting them at the Bridal Expo in Windsor, ON to the ease of communication, Ian and his team take their work seriously and 100% want to make sure that your ceremony & reception are just how you want them! You and your guests will definitely enjoy yourselves! Ian was very flexible and receptive about meeting me (after office hours). Ian and Andre did a great job of emceeing and reading the crowd! So glad to have them be a part of our day and we so appreciated their attention to detail and overall friendliness! You will not regret working with Night Beat!" Klotz – 2017
---
"Night Beat Entertainment was absolutely amazing! Ian is a straight shooter. He helped us through the whole planning process, offering his expertise and suggestions when we were stuck, and incorporated everything we wanted. He is organized, outgoing, fun and makes the atmosphere comfortable. He helped way beyond just MC services on the day of the wedding. Also–the dance floor was always pumping! He definitely knows how to play off the crowd. He was just amazing! Petar…WOW! AMAZING photographer. He has such an eye for unique photos. If you're looking for something beyond the generic wedding photos, he is your man! For our engagement shoot he took us to graffiti walls, train tracks, etc. The photos were so creative and definitely captured our personalities. Our wedding photos could not have turned out better!! Honestly, can not go wrong with Petar's creativity and expertise. I have no regrets with this Night Beat Team of Experts. We actually recommended them to friends getting married and they hired them and loved everything about them as well. They are very professional, but make you feel like family. Thanks Ian & Petar, you're amazing!! " – J. & B. – September 2017
---
" Jamaica Mon!!!
If you're planning a destination wedding and stressing about the uncertainty of your options… we say bring them with you! My husband and I got married in Jamaica in 2016 and Night Beat Entertainment were without a doubt the perfect addition to our special day!!! Every place has different packages but this was "our" wedding and knowing exactly what we were getting was imperative! From photography, Master of Ceremonies and the BEST DJ – 7 Mile Beach has ever experienced, Ian and Petar made it seem effortless…throw in the family pictures, special moments captured, excursion pictures and the week long party, it's needless to say they got the invite for the anniversary party before we left the island! Thanks again for making our wedding week extra Special!!" Steph & John – 2016
___________________________________________________________________________
"We chose Ian and his TEAM for our wedding on August 2016. Ian was great from day 1. Very helpful when coming to organizing our day, very professional and a lot of fun. On our wedding day Ian and his TEAM went out of their way to make our day extra special. Due to the rain, last minute we had to change our Ceremony to inside the venue. The staff at the venue did not want to move our decor inside however, Ian and his TEAM were more then happy to move our decor inside to make our Ceremony beautiful in spite of the weather. Everyone was on the dance floor and can't stop talking about how great the music was. This TEAM is very compassionate, professional, and very funny! My husband and I highly recommend Night Beat Entertainment"
Parent – August 2016